Servoyant Version 5.3, IT's Alive!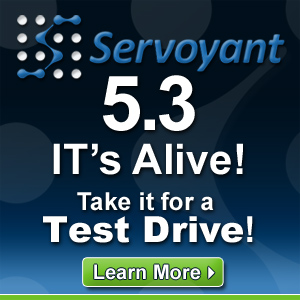 Servoyant, LLC., one of the MSP industry's broadest and most capable unified network management systems, has officially announced and launched Servoyant version 5.3. "With every update, our goal is to help you do more, in less time, with fewer techs, and with higher margins," states Servoyant's President and CEO, Enrique Krajmalnik, "Servoyant 5.3 adds many new features that do just that, making your team a high performing group of network heroes."
Nicholas G. Hoague, Co-Owner of OnePointSync, LLC commented, "Your last update GREATLY improved performance and is making us even more productive. Servoyant is always getting better. We love it!"
Some of the great new features you'll experience in Servoyant 5.3 include:
Improvements to patching with on-demand missing patch query and installation, as well as more granular scheduling and patch controls
Third party application deployment and patching
Enhancement to deployment policies allowing for control over thresholds, priorities, and more at a policy level
Device level access, giving you precise control over which devices users can view and manage
New discovery and dashboards focused on virtualization and hypervisors including Hyper-V, VMWare, and Xen
Load time performance improvements of up to 200% on often used screens such as the systems dashboard
Community Scripts - submit your Servoyant jobs and job groups to the whole community. Help others as they help you extend the reach of Servoyant!
About Servoyant
Servoyant, LLC. is a leading unified network management system that unifies network monitoring, management, automation & reporting into a single, intuitive platform. Servoyant is offered as cloud-based (SaaS) or an appliance, can coexist on existing equipment, and dedicated hardware is not required. With a quick signup process, rapid deployment, provisioning templates and automated discovery, administrators can remotely manage and monitor an entire network in minutes. For more information, visit the Servoyant website at servoyant.com.